Return to Headlines
PMSD unveils commercial sponsorship program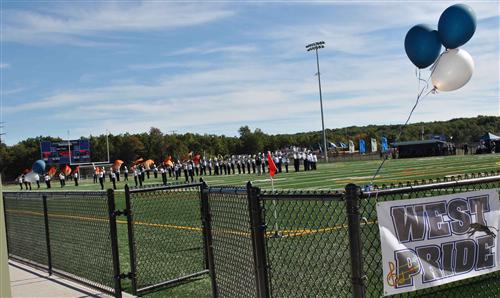 Pocono Mountain School District Opens Indoors and Out to Sponsorship and Marketing Opportunities
POCONO MOUNTAIN SCHOOL DISTRICT, Swiftwater, Pa. – The Pocono Mountain School District unveiled an exciting new Commercial Sponsorship Program, HYPED

TM

Community Support for Excellence in Education, at the School Board meeting February 1, 2017 in the Swiftwater campus District Administration Building.
The task of implementing proactive measures for fiscal responsibility remains an important focus of Directors and Administration, as the district has continued to reduce the real estate tax burden on the local community providing tax relief with a reduction in the millage rate by ten mills as of 2016-2017.
Enlisting innovative options to sustain valuable resources and programs for our students, continues to be of significant importance as state budget impasse and funding formula uncertainty remains a lingering concern across the Commonwealth.
The HYPED

TM

program allows businesses to support District students, teachers, and families through sponsorship and marketing opportunities. Working closely with a local liaison, Degrees of Participation: Senior, Junior, Sophomore and Freshmen, will offer recognition in areas throughout Pocono Mountain East and West High School including both in-facility and out with athletic field space.
Enhancing the opportunities already offered to students in the district, the program will provide hands-on and advanced opportunities to participating students with a 2017 Spring and Fall school digital magazine at each high school accessed through district newsletters, correspondence and web page.
Capturing the essence of school spirit, HYPE

TM

digital will introduce Language Arts, Graphic Design and Photography students to industry related teamwork with opportunities to interview, photograph and creatively write about sponsors and the district sharing Cardinal and Panther Pride while building an impressive portfolio for their future.
Learn more at http://hypeducation.com/PoconoMountainSchoolDistrict.html