Return to Headlines
Family Consumer Science program adds Tower Gardens to the classroom
Family Consumer Science program adds Tower Gardens to the classroom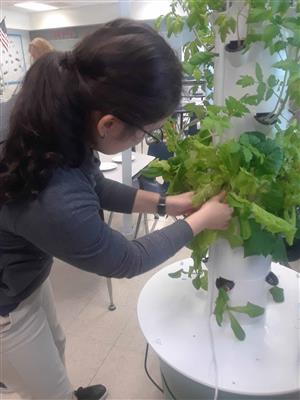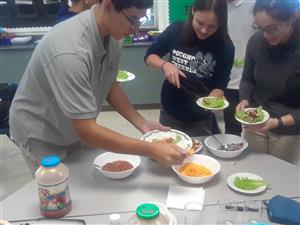 Student from PM West High School's Family Consumer Science class harvest lettuce from their Tower Garden to use in place of a taco shell. The students are growing vegetables and herbs to use in recipes as part of the Tower Garden pilot program.
New for the 2018-19 school year, Pocono Mountain West High School Family Consumer Science students taking Contemporary Foods Around the World will learn how to grow plants for food from seeds right inside of their classroom.
With the use of two Tower Gardens, the students will learn how to grow herbs and vegetables from seed using the vertical, aeroponic growing systems. Each Tower Garden can grow up to 20 vegetables, herbs, fruits and flowers in less than three square feet of space, according to the Tower Garden website.
The Tower Garden systems use aeroponics, which the manufacturer describes as an advanced form of hydroponics, using water, liquid and nutrients in a soilless growing medium to grow plants three times faster and with 98 percent less water, according to the Tower Garden website.
While the systems can be used indoors or outside, the West Family Consumer Science teachers, Diane Sury and Bridget Cook, plan to use the Tower Gardens only inside of the classroom, so students will have to learn about plant pollination and how to manually pollinate those plants that require pollination to produce fruit.
The Science Department at the West High School has expressed an interest in the new garden systems, as the gardens have great potential to support science lessons and be used for cross curricular instruction. In fact, the Tower Garden systems come with online access to lesson plans for science on such topics as plant parts, plant mineral nutrition and pigment developed by Seton Hall University.
The teachers want the students to grow some of the food they use in their classes. Also, students from the Life Skills class will join in the learning environment and will help take care of the plants and harvest vegetables, herbs, microgreens and flowers.
The West High School was selected to pilot the Tower Garden systems because enrollment in the West Family Consumer Science classes is strong, as students have expressed a desire to learn how to prepare healthy meals for themselves and their siblings at home on evenings when their parents may have to work late shifts.