Return to Headlines
One School, One Book encourages CRIS families to read together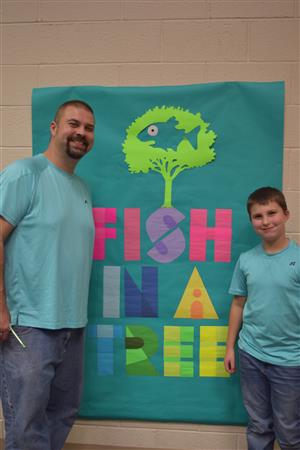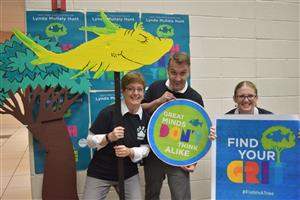 (Left) Connor Popa, 4th grade student, and his dad, Mihael Popa, attended Clear Run Intermediate School's One School, One Book kickoff. (Right) Principal Regina Schank and Assistant Principals Walter Pawlowski and Amy Haynes unveil the book the entire school will read as part of its One School, One Book initiative.
One School, One Book encourages CRIS families to read together
By Megan Dunlap
Administrative Assistant to Principal Schank
Clear Run Intermediate School
September 26, 2018 was a special night at Clear Run Intermediate School. It was the Kickoff event for our school's One School, One Book Initiative. Our Literacy Committee which includes our school librarians, teachers and administrators, purchased the book entitled "Fish In A Tree" by Lynda Mullaly Hunt to create a school community reading environment. The Committee chose this amazing tale about a girl named Ally, a student who struggles with a learning disability, and distributed one to every student in the building. Teachers were also given the book to read so they could share in the story of Ally's journey.
It was thrilling to see and hear the very moment when Mr. Pawlowski revealed the title of our second One School One Book novel. The cheers could be heard all around the school!
Our event was very well attended which in itself shows the eagerness of the community to partake on this literary journey! We had our hard-working P.T.O. present to sharing membership information and some of the events happening throughout the year. Of course many of our teachers were present because they are just as enthusiastic as the kids when it comes to school events.
The concept of reading as a community is not a new one; however, research has shown that reading as a community increases commitment to literacy. Sharing a read gives all participants the same storyline from which to draw comparisons. It creates a conversation starter for students, faculty and families. It increases engagement in a manner different than the technologically-driven ways we see all around us.
The N.Y. Times Bestselling book, "Fish In A Tree" was chosen due to its relevant topics like academic struggles, the need to fit in, and the power of a teacher who believes in their students. It is an amazing story about a girl named Ally who is bullied because she struggles in school and is a tribute to teachers who go the extra mile to reach every student.
Never before have we seen so many kids with their noses in books as they walk down the hall! It is an amazing and gratifying sight to see! Families are continuing the conversation with our daily trivia questions about the book. We hope to continue nurturing our students' love of reading and learning! Who knows? Maybe we've ignited something in their parents too!