Return to Headlines
PM East HS Student Earns Boy Scouts Highest Rank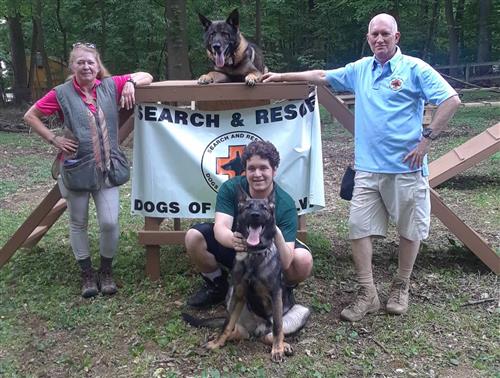 PM East HS Student Earns Boy Scouts Highest Rank
Pocono Mountain East High School junior and Monroe Career & Technical Institute welding student Jack Hewlette-Bullard received the Boy Scout's highest rank of Eagle Scout.
Jack earned his Eagle Scout in November 2018, making him the 82nd Boy Scout from Troop 85 in Tannersville to achieve this rank.
To earn this distinction, a Boy Scout is required to earn 21 merit badges, whereas Jack earned 36. He received additional distinguished awards of bronze, gold and silver palms. [A palm is displayed as a token of continued service beyond the rank of Eagle Scout.] Jack also received many Letters of Achievement and Certificates of Merit from a number of notable figures such as former Presidents Jimmy Carter and George W. Bush.
"I benefit from various skills and ideals I have picked up during my time in Troop 85," Jack said in explaining the impact scouting, and especially earning his Eagle Scout, has had on him.
On April 13, 2019, Jack's Court of Honor was held at St. Luke's Emergency & Transport Services building in Tannersville. The event was very well attended, according to Tammy Hewlette-Bullard, Jack's mother. In addition to the Pocono - Minsi Trails Council and Troop 85 Scout leaders, there were several presenters at the event such as PA State Representative Jack Rader and Kristine Bush, District Director to State Senator Mario M. Scavello.
Inspired by his love of animals, Jack completed a major community service project benefiting Search and Rescue Dogs of Pennsylvania in Chester County, Pa as part of his Eagle Scout project. "The closest non-profit group was a far drive from my local area," Jack said, "but that wouldn't stop me from building equipment that would benefit the organization." He designed and constructed multiple pieces of training equipment, as well as assisted with the redesign of the organization's training course.
Jack currently serves as Junior Assistant Scoutmaster in Troop 85. He is also a member of the Order of the Arrow, the National Honor Society of the Boy Scouts of America. After graduation, Jack plans on enlisting in the military "carrying on a proud family tradition of service to our country," said Tammy Hewlette-Bullard.