Return to Headlines
Clear Run Elementary Center Transformed Forever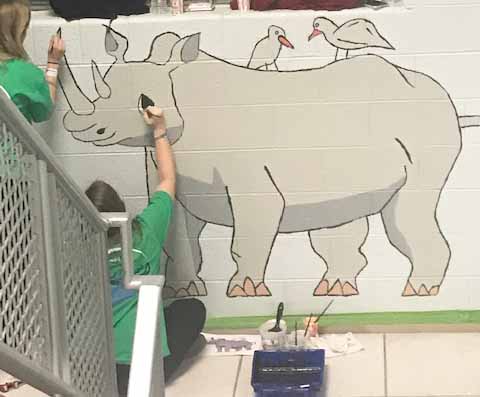 Clear Run Elementary Center Transformed Forever
The walls of Clear Run Elementary Center transformed forever the night of Friday, March 29 when over 300 college and university students from Student PSEA filled the school walls with color.
The magic begins as soon as the students come off the buses where they are greeted by a mural which says, "You are loved at CREC."
When they go through the six stairwells, they explore six different habitats: the Arctic, Desert, Grasslands, Jungle, Ocean, and Woodlands. Every time they enter the cafeteria, they are encouraged to "Eat a Rainbow" of fruits and vegetables. Paintings of children warming up circle the gymnasium as a helpful guide to all students — these are the same exercises students take part in after their warmup jog. Inside the library, they are surrounded by murals of children reading; there is also a mural painted on the wall across from the library. Finally, there is a mural painted on the wall leading outside to the playground.
The students were filled with joy when they walked through the doors the Monday morning following the transformation. Elias Medina, a new second grade student at CREC, said, "I am loved at CREC and I LOVE it here!"
"To say that our building was transformed in one evening would be an understatement," said Heidi Donohue, CREC's principal for grade 2 and special ed. "This project was a true example of teamwork at its finest! Clear Run Elementary Center has always been a very special place to learn and work, and now we can add the adjective 'magical' to that statement."
The night before the college students painted the walls (with the help of CREC staff and faculty, of course), teachers came in and sketched the artwork on the walls. Some murals were done by projecting clipart onto the walls and tracing while others were drawn freehandedly.
"This project was months of planning – from the numerous committee meetings, to conference calls, to [teachers] giving up planning periods and/or to covering one another's classes to sketch outlines on the walls," said Karen Doughton, CREC's principal for grades kindergarten through grade 1. Teachers, parents, family and friends of the staff/faculty, retired teachers, and aspiring educators assisted in the project.
CREC is the sixth school Student PSEA, the Student-Pennsylvania State Education Association, has beautified as part of its community outreach program "Outreach to Teach." When Desiree Brown, a CREC kindergarten teacher and former Student PSEA member, heard the organization was coming to Kalahari Resorts and Conventions, she reached out to Student PSEA in hopes they would consider CREC as 2019's host school, and they did.
It took a lot of preplanning and teamwork to ensure the students at CREC could be surrounded by inspirational, educational artwork for many years to come.