Return to Headlines
Rep. Cartwright Discusses School Reopening, American Rescue Plan at Pocono Mountain West High School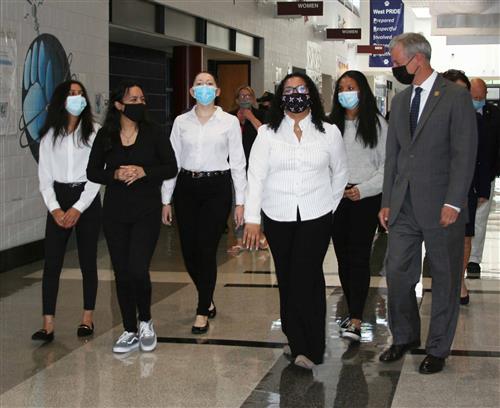 Rep. Cartwright Discusses School Reopening, American Rescue Plan at Pocono Mountain West High School

American Rescue Plan Provided $20 Million for Pocono Mountain School District to Reopen Safely, Stay Open and Help Students Make Up for Lost Learning Time
Pocono Summit, PA – U.S. Representative Matt Cartwright (PA-08) toured Pocono Mountain West High School and met with school administrators, school board members and state legislators to discuss the American Rescue Plan relief funding the school has received and their experiences as the school resumed classes for the fall semester on Tuesday, September 14, 2021.
Through the American Rescue Plan, which Rep. Cartwright helped enact this spring, Pocono Mountain School District (PMSD) was allocated $20,133,459 to support their reopening for the fall, help them to stay open safely and make up for students' lost learning time since the onset of the pandemic. The coronavirus relief compromise Congress enacted in December 2020 also allocated $9.2 million for PMSD. In total, the American Rescue Plan authorized $275 million for school districts in the counties that comprise the Eighth Congressional District.

"Learning and teaching have been enormously more difficult since the onset of COVID-19, so I was proud to help pass relief funding to help schools provide a safe and productive in-person learning environment for Northeastern Pennsylvania's students to grow and develop," said Rep. Cartwright. "The American Rescue Plan will continue to help our schools stay up and running and make up for valuable learning time students have lost in the past year. This is about ensuring the wellbeing of Northeastern Pennsylvania's students and families."
"The COVID-19 pandemic has had and continues to have a tremendous impact on our schools and our budget," said Dr. Elizabeth Robison, Superintendent of Schools. "We are very thankful for the federal relief funding being allocated to our school district, especially the funding that allowed us to address COVID-19 student learning loss through tutoring, summer school, and other important educational programs."
"When COVID-19 hit, our board was very worried about how to fund all of the new unfunded requirements and expenditures being forced on the district due to the pandemic," said Rusty Johnson, PMSD Board President. "The COVID-19 relief and American Rescue Plan funding are offsetting those unfunded mandates and allowing the district to expand its services for students."
"Our student ambassadors were excited to show off their school to the Congressman," said Michael Jones, Pocono Mountain West High School Principal. "It was an honor to host Congressman Cartwright for his first visit to Pocono Mountain School District."
The American Rescue Plan made a $130 billion investment in school re-opening and making up for lost time in the classroom. These funds were authorized to be used for reducing class sizes, modifying spaces so that students and teachers can socially distance, improving ventilation, implementing more mitigation measures, providing personal protective equipment and providing summer school or other support for students that help make up lost learning time this year. The plan also provides resources for higher education, Head Start and child care facilities.
For more information on PMSD COVID-19 grant funding, click HERE.