Return to Headlines
TEC's Trout in the Classroom project helps restock Tobyhanna Creek with rainbow trout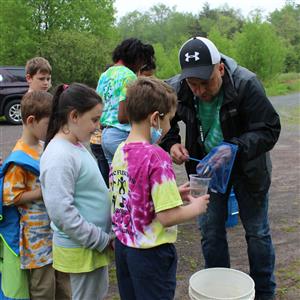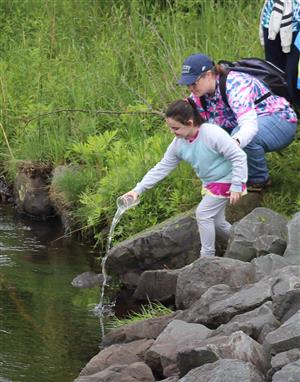 Mr. Eric Argot, Tobyhanna Elementary Center (TEC) 3rd Grade Teacher, participates in the PA Trout in the Classroom program. Mr. Argot received the rainbow trout eggs in February for his class.
He and his students took care of the eggs as they developed and grew into the small trout the students released into Tobyhanna Creek on Friday morning, May 27th. The students successfully raised 96 trout.
The students who released the trout into the stream attend TEC in grades K to 6 and were participants in the school's science fair. Approximately 45 rainbow trout were released May 27. Mr. Thomas Mann, TEC Math Support Teacher, assisted with the trout release into the stream. Mr. Argot will release the remaining trout into two other streams that have been designated for the program at a date in the near future.
To participate in the PA Trout in the Classroom program, Mr. Argot had to raise approximately $2,000 to pay for equipment and supplies. The following sponsors stepped up to help support the program: PM Visitors Bureau, Pocono Lake Preserve and Promised Land Sportsman Association.
"Pennsylvania Trout in the Classroom (PA TIC) is an interdisciplinary environmental education program in which students (grades 3-12) learn about current and past impacts, management, and protection and enhancement opportunities of Pennsylvania's watersheds and coldwater resources, while raising trout in the classroom," according to the PA Trout in the Classroom website. "Throughout the year, students are introduced to the importance of watershed conservation efforts, ecosystems, habitats, natural resources, and management strategies to protect and enhance coldwater resources. They are also introduced to recreational opportunities in which they can enjoy those resources and to the coldwater fish species that call those waters home."
The PA Trout in the Classroom program is made possible by a partnership between the Pennsylvania Council of Trout Unlimited (PATU) and the Pennsylvania Fish and Boat Commission (PFBC), according to the program's dedicated website.