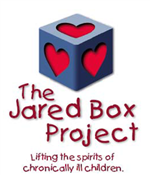 Project: Jared Box
What is a Jared Box?
A Jared Box is a shoebox size plastic storage box filled with small gifts, toys, cards, and games.
The goal of the Jared Box Project is to lift the spirits of chronically ill children.
Each box contains items selected for a specific age and gender.
The boxes are due 1/28/20!
For more info click here!