Return to Headlines
PMSD named Best in Class by Cenergistic for its Energy Program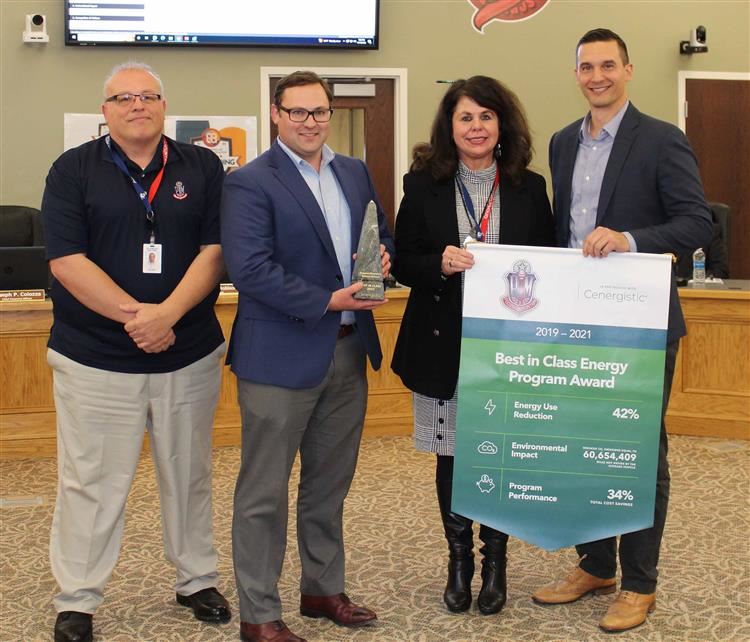 (Photo Caption) Representatives from Cenergistic presented its Best in Class Energy Program Award to Pocono Mountain School District administration at the November 16th Board meeting. Pictured here (l to r): Joseph Colozza, Chief Financial Officer; Matthew Stellar, Cenergistic Regional Vice President of Operations; Dr. Elizabeth Robison, Superintendent of Schools; and Benjamin Bray, Cenergistic Energy Specialist for Pocono Mountain School District.

Pocono Mountain School District (PMSD) received the Cenergistic Best in Class Energy Program Award for 2019 through 2021 at the School Board meeting on November 16, 2022.

The district received the award for its energy conservation efforts in reducing consumption by 42%, the district's impact on the environment, and the overall financial savings realized.

The award criteria specifically looked at Pocono Mountain's low energy use index rating, impactful environmental conservation, above-average energy savings, and its superior level of support and cooperation from the board, administration, building staff and students in the Cenergistic energy program.

The district began its partnership with Cenergistic in January 2019 to reduce the district's energy usage footprint and to increase its energy conservation efforts. The partnership has paid big dividends in terms of energy savings for the district.

Total cost avoidance from January 2019 through December 2021 for the district equaled $3.68 million. PMSD, through assistance from Cenergistic, was able to decrease what it spent on utilities by more than $1.3 million over the 12 months prior to December 2021. The district has also reduced its energy per square foot cost from $1.86 per square foot to $1.15 per square foot last year, a 38.2% reduction.
PMSD is on track to surpass $5 million in cumulative program savings (cost avoidance) before the end of the year.

Cenergistic is an award-winning energy conservation partner for PMSD. Cenergistic received the 2022 ENERGY STAR Partner of the Year – Sustained Excellence Award, the highest level of recognition from the U.S. Environmental Protection Agency and the U.S. Department of Energy. The award marks the 14th straight year Cenergistic has been recognized by the EPA for its industry-leading program that helps its partners – including education, local government, healthcare and faith-based organizations – optimize their energy performance and manage energy costs to create a healthier and more efficient environment. (Information gathered from Cenergistic.com)